Description
Xensr Air 2.o
Is now available here at Canadian Kitesufing Society online shop
Track your sports motion in 3D with the XensrAIR!
Made for action sports, the Air 3D GPS captures all your moves no matter what sport you do. The first 3D GPS in the world, the Air 3D GPS uses GPS, inertial sensors and more to capture all your motion in amazing 3D. Powered by our Add to dictionary processor, the Air 3D GPS can pair with your Android Wear smartwartch and give you real-time feedback on your sports performance. You can review your stats on your mobile device (apps for iOS and Android) and dive deep into the data on your my.xensr account.
Xensr Air 3D GPS also sync's with your GoPro HERO4 camera to automatically create action videos right from your iPhone! No more editing video, no more waiting while you download all your videos. Simply share your session with Xensr OneTouch Video, and your iOS app will sync to your GoPro and create a video in seconds for you to share. Overlay sports graphics into the video automatically as OneTouch picks your best moments from your session to share.
Made for your action sports – the Xensr Air captures your sessions with insane precision with TruMotion metrics for jump height, airtime, jump distance, speed, inverts, landing impacts, vertical feet and more! Measuring a tiny 45mm square and only 1.5 ounces in weight, the Xensr Air 3D GPS is the smallest and smartest 3D sports sensor on the planet.
UPDATED – 9/8/2016 – Xensr Air with easy to see LED's, improved housing, tweaked sensor suite and new lower price!
WHAT'S IN THE BOX
XensrAIR 3D GPS
Xensr Deck Mount
XensrDock + USB Cable
Get Started Guide
The Air is a multisport device, and the Xensr App is a multi platform app! Available for both iOS and Android, the Xensr App is the best way to control your Air and manage your Xensr devices.
WHAT'S IN THE BOX
XensrAIR
Xensr Deck Mount
XensrDock + USB Cable
Get Started Guide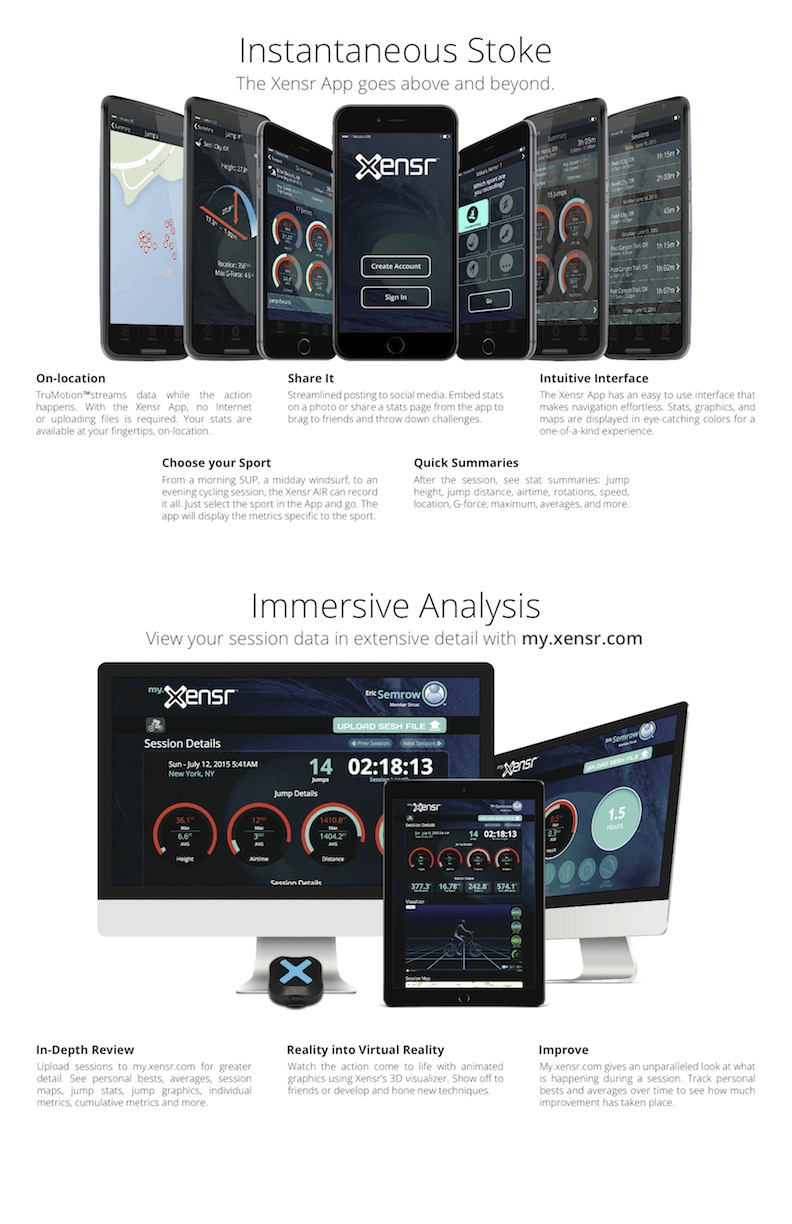 Xensr Air is now available in Canada. You may BUY your Xensr online here at CKSS.
FREE Shipping across Canada . Local pickup available In Toronto and Area .